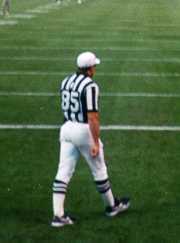 Referee Ed Hochuli steps onto the field during a 2001 preseason game. Hochuli worked Super Bowl XXXVIII last season.

Behind the Football Stripes Newswire
• 8/28/05 The 2005 NFL Officiating Crews are now posted. Click here
• 8/21/05 Welcome to the 2005 NFL Season on "Behind the Football Stripes". The 2005 NFL Officiating crews and preseason information are now posted. Please visit our message board for updates and news from around the world of officiating.


News Archives